The following is our technical capacity, know how and understanding of what need to be achieved before the implementation of the project.

Maintenance
A strong, sturdy and fully functional roof is a necessity many of us don't consider until it is leaking out heat or dripping water on our heads.
The best practice for roof maintenance is an inspection of your roof every year, even if you don't detect a leak. Broken tiles, cracked decks, cracked tiles, rusted screws and bolts and sun damaged waterproofing can leave your roof vulnerable and open to nesting insects such as termites who love damp. Moisture can seep into your insulation, walls, ceilings, electrical outlets and even to your furniture and belongings. This can develop into unhealthy mold for you, or damage your building.
With our Regular Maintenance Programs, you now have a simple solution to extend the life of your roof.

Our professional roof inspection and maintenance includes:

Checking all the flashing to make sure it is properly secured and free from damage and cracks
Cleaning gutters, eaves, and drainage systems
Clearing any unwanted vegetation or growths
Removing unwanted materials such as branches, sticks, and other debris
Inspection of the roof surface for any deterioration such as cracks, mould, and rot
Surveying the roof for any missing, damaged, or curling shingles

Our team of experienced roof technicians can pinpoint exactly what is wrong with your roof and offer a permanent solution.

Repairs
Even if a roof is installed perfectly with the highest quality materials - time, weather and debris will lead to corrosion, leaking ceilings and eventual flat roof repairs. Age catches up with all of us!
We can perform commercial roofing maintenance and repairs to current buildings.

There are many benefits to professional commercial roof repair or waterproofing.

Protect your company, products and tenants from the weather and elements.
Increase the value of your property.


Our roof repair services team can repair any style and material roof. We also provide professional torch on roof, decks, metal roof, tile roof, cedar roof repairs and more.
We work closely with building owners, property managers, and corporations. Our high quality commercial roof repairs are done on time and on budget with minimal disruption to tenants and occupants.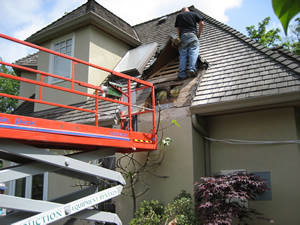 Universal Roofing Solutions (Pvt) Ltd has successfully executed several projects (waterproofing, painting, guttering, maintenance and repairs) with various organizations.
CUSTOMERS
We will deliver customer value through the provision of products and services that suit the various tastes of the market; we will work with both large and small organisations, in pursuit of a focussed differentiation strategy that will provide for their needs and requirements. We have dealt with more than 100 customers to date comprising of Non- Governmental Organisations, individuals, schools and corporates.